Silver Prices Are About To Explode, But Ounces Matter More...
Welcome to our silver prices page.
Hi - It's Dr. Jeff here.
I promise to try and make this as brief as possible.
The way I figure, most of you landed here from another page on this site, given that the silver spot price is quoted in a thousand places.
Like this: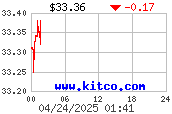 So there it is - the world spot price of silver.
Some of you may have landed here after reading something bit more refined by yours truly. If you don't know what I'm talking about, here and here are recent examples of how we treat the news related to silver and precious metals.
First off, if all you want to know is what the silver price is right now, see above - and thanks for visiting!
If you want learn the who, what, where, and how of silver prices, and why it is you will spend what you will on physical silver, or all about silver price conspiracy facts, or the case for sticking to your guns (literally and figuratively) ...and/or why much of the mainstream precious metals commentary is disingenuous, read on...because that's what I like to write about. In fact, in one form or another the often painful truth about silver prices is what I've been writing about for nearly a decade.
I decided to outline some of the most common reasons below and let you decide to help you get where you need to go next and fast.
In no particular order:
Are silver prices going up or down? Why? And when?
Short term no one knows because the price is fixed by a broken price discovery mechanism dominated by one or two large entities, a.k.a., "Bullion Banks".
The only conspiracy about this has to do with whether or not it is directly or indirectly mandated by central banks. For gold, probably yes it is, but for silver it may have just turned out that way. It's a long story.
Long term, sure it's going higher. Higher, via priced un-backed currency debt tickets (dollars, euros, yen, pesos, etc) - and much higher in purchasing power more closely resembling its fundamental supply and demand character.
Who or what determines the price of silver?
World silver prices are a paper phenomenon. Futures markets, where originally users and producers would come together in a beautifully arranged, controlled and predictable environment and bid on the future price of silver.
At some point a couple of decades ago, large banks were allowed to enter the market as speculators and it was all over from there.
What is the price you will pay?
You, the retail investor will pay this spot price plus dealer fee or premium plus any shipping and handling
Where can you get the best price? (and why you're not asking the right question - if that is the question you are asking)?
Yes you can get a cheaper price online, but locally you get at least the benefit of a relationship -- someplace to sell in a pinch.
Believe me, I more than realize the upside potential for silver prices based on both fundamentals and the technical set up or structure of the market, i.e. huge naked short positions in danger of panic covering.
Wherever you buy - it CAN depend on where the silver was sourced from originally. Some online dealers claim their silver comes direct from the mint and argue that retail local dealers are selling a combination of both and that would be a disadvantage.
Before we answer that issue, lets talk about another question...
Why do ounces matter more and numismatic is a cool sounding word and all, but you should avoid dealers who pedal it at (almost)* all costs...?
Numismatic mark-up takes much longer to realize a ROI than bullion -- but and this is to answer the question above -- the numismatic dealer is more acutely aware of VALUE since they are buying from the public - and less likely to mistakenly miss fake or counterfeit, which answers the question about the advantage of buying from recently produced from the mint...
How are prices are beaten down in the short term?
Silver price manipulation is a reality -- it's both unfair and an advantage at the same time.
You get silver cheap.
The frustrating thing is that it may knock you off the bull because of the abnormal trading structure.
And of course, given that the manipulation of silver prices has gone on for so long, many people have simply not survived to see the fruits of their prudent decisions.
When will silver prices reflect reality?
No one knows the answer to that question. All we can do is prepare for the worst in terms of the macro conditions and do what we can to protect our families and community.
We are more than likely one black swan away from the triggering event for a short covering panic. The structural set up (as of June 2013) is about as bullish as it gets and more so than any other time over the last few years.
We ain't see nothing yet.
There are two separate realities for silver: Physical and Paper. And while the same could be said for many other markets, the lop-sided mispricing of silver and the disconnect between these two realities is vast. Reversion to the mean will likely overshoot far beyond anyone's imagination.
Another thing about silver prices...
I know we tell ourselves to practice living in the moment, but with silver prices, this is impossible, because the financial powers that be have successfully captured the moment and hidden it from view.
What you see above is an illusion created for you by a broken derivative system.
Of course, you can't reverse time, nor can you snuff out the market all together...
Case in point: the unprecedented, stupendous, and tremendous surge in retail physical demand ahead of and in the aftermath of the most blatant market operations ever witnessed in the history of the world since the days of coin clipping.
What you are looking is the spot price -- yes....But really a fuzzy mathematically derived concept based on the future and denominated in a currency being printed at levels the likes of which have never been seen before in the history of human civilization.
I covered the spot price in this video a while back.
The main point is that the spot price you see today and silver prices quoted in general are a sort of grand illusion mis-informing the masses and driving an otherwise prudent value investor (YOU!!) nuts.
The conclusion is that you should not look at the spot price -- it's not reality and what matters most is that you count the number of ounces you can get with the fewest number of debt tickets you need to trade.
What you are paying is the most unbelievably discounted price imaginable to a useful, rare commodity, final payment, monetary asset which will also make your stomach turn - but for which you should be thankful you have a chance to trade your fiat debt tickets for from preferably and local dealer (so you can have someplace off grid to sell back to if needed)....
Because it's all about time -- time is the ultimate commodity.
If that was helpful, we have a few options:
Like us and do the Facebook thing below. Check out our Youtube channel, Twitter feed, etc;
And better yet, sign up for our free thing and read more from an eye doctor turned silver analyst/investor and send me your questions:
For more information about "Silver", click here.